To use humane animal husbandry practices.
To produce chemical, hormone and antibiotic free offerings.
To use non-GMO feeds (feed without soy or corn).
To operate as sustainable as possible.
To work with other local farmers that operate by the same values and ethics as we do.
To use local butchers and other local companies whenever possible.
To provide old-fashioned and personalized customer service.
Maple Bay Farm is a family-run operation that started in 1946 with Margaret and George Whittaker, my great grandparents, and their decision to purchase 350 acres on Herd Road in Maple Bay, just minutes from Duncan, BC. My great grandmother went on to develop a very successful dairy farm while my great grandfather ran his own select-logging company. Both were well known in the Cowichan Valley and together raised 6 children.
Fast forward to 2006, when my parents accepted the challenge of turning what had become a dilapidated and unused farm into something productive. The milk quota was long gone so the decision was made to raise beef cattle and sell hay.
Since that time, me and my family have joined my parents to live and work on the farm, making my children the 5th generation on this land. With the addition of my husband, Will and his love of ducks, we expanded our offerings to include duck eggs and they have really taken off. Thanks to our amazing customers and retailers who choose to sell locally produced offerings, and our ongoing commitment to producing a free range and NON-GMO product, we have become Vancouver Island's largest duck egg producer and are still growing.
From the very beginning, Great Grandmother Margaret was dedicated to the humane treatment of her animals and to never using pesticide or herbicide sprays of any kind on the orchard or fields, leaving us a solid foundation to build on. We take tremendous pride in our heritage, continue to honour her commitment to all-natural farming practices, and to passing our farm on to the next generation.
Ashley Henderson, Maple Bay Farm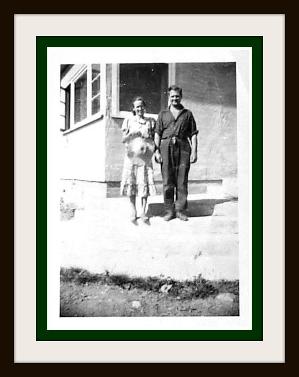 Margaret and George Whittaker in 1952 standing on the front steps of their home on Maple Bay Farm.