Welcome to Maple Bay Farm!
We are located in beautiful Maple Bay, just 15 minutes east of Duncan, BC where we've been farming since 1948.
COVID-19
We continue to implemented extra cleaning in order to do our part to mitigate risk to our customers. To help us and others, as well as yourself, please remember to implement social distancing by leaving a minimum of at least 2 meters (6 feet) between you and others. Most importantly, we ask that if you have any symptoms of illness, have traveled out of the country or been with someone who has been away within the past 14 days, or if there has been any risk of exposure to the COVID-19, that you not visit the farm. Thank you for choosing to buy from Maple Bay Farm!
We want to thank you, our amazing customers for not taking or opening the bags in the fridge that contain chicken eggs designated for someone specific. We have been very impressed with how understanding and patient all of you have been and we thank you very much for your cooperation.
ANNOUNCEMENTS
July 2020
DUCK and CHICKEN EGGS
Our egg are NON-GMO (soy/corn-free) and Free-Range
Duck eggs at the farm are $7/dz at the farm and stored in the fridge by the barn. If you are coming from out of town or wish to pre-order duck eggs, please text or call Ashley at 778 677-0717.
Duck eggs for retailers. We have retailer pricing and delivery service for groceries, bakeries, health food stores, and markets. Please contact Ashley at the number provided above for details or email maplebayfarms@gmail.com.
Chicken eggs aren't as available as our duck eggs due to restrictions imposed under the chicken egg quota system. Due to extremely high demand, we are not accepting pre-orders at this time. Once our production levels pick back up, we will be able to once again take orders. Also, we are unable to supply chicken eggs to retailers.
We are happy to announce that our duck eggs are now available at 11 locations;
VICTORIA-CAPITAL REGION
Red Barn Market (West Saanich, Mattick's Farm-Cordova Bay, Latoria Walk-West Shore) NEW LOCATIONS
The Old Farm Market (Saanich) A NEW LOCATION
The Root Cellar (Victoria) A NEW LOCATION
Health Essentials (Victoria) A NEW LOCATION
Peppers Foods (Cadboro Bay, Victoria)
The Market Garden (West Victoria)
MILL BAY
Sweet Meadows Farm Stand (Mill Bay) A NEW LOCATION
LADYSMITH
LOWER MAINLAND
City Avenue Market (Vancouver) A NEW LOCATION
Please support these retailers for choosing to sell locally produced products. If you want to sell our duck eggs at your grocery store or stand, please contact us. We can also supply restaurants and bakeries. Visit our Contact Us page.
We are often asked what NON-GMO means and why it is important. If you or someone you know doesn't feel well after eating regular eggs, try GMO-FREE to see if it makes a difference.
By clicking on the link below, you'll be able to learn why NON-GMO might be the answer to your problem.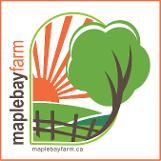 HOURS
Monday - Friday 7 am - 7 pm
Saturday - Sunday 8 am - 7 pm
We accept cash or pre-arrangede-transfers
Maple Bay Farm is a small family operation begun by my grandmother, Margaret Whittaker, back in 1948. She cleared the land in order to operate a dairy farm. We no longer are a dairy farm but do follow her lead by continuing to farm in a way that is natural and sustainable. We do not use any hormones or antibiotics in our operation or chemical sprays in our orchard. We are committed to ensuring that the best animal husbandry practices are followed and that all we produce is of the best quality while ensuring that our animals have the best quality of life possible.

CUSTOMER FEEDBACK

"We drive from Victoria for your duck eggs. They're that good!" Dave
1100 Herd Rd, Duncan, BC V9L 5W9